When you need secure storage for your existing servers and IT hardware, as well as the flexibility to expand your range of equipment along with your growing business, our colocation services are the right option for you. Our two tier III Boston colocation data center and Dallas colocation data center offer solutions that are customizable and affordable, including cloud servers and VPS servers.
---
Colocation
Reliable & Personalized Colocation Hosting Services
At LightWave Networks, our colocation services are reliable and flexible enough to cater to businesses of all sizes. When you need secure storage for your business' existing servers, IT hardware, and networking equipment, our colocation facilities and services are the right choice.
What Is a Colocation Data Center?
We'll house your company servers in our fully redundant and secure Tier III colocation data centers. A colocation data center is a third-party facility where a company can store its servers and other IT hardware. For a monthly rate, the colocation facility will provide the space, power, cooling, bandwidth, and security to operate a company's servers and IT hardware.
Additional Colocation Services
In addition to providing colocation server space at our data centers, we also offer dedicated servers, cloud servers, VPS servers, and other premier services designed to keep your business connected. Our affordable server solutions are fully customizable. Trust our team to deliver a plan truly personalized to meet your business needs.
Why Choose A LightWave Networks Colocation Data Center?
In our colocation hosting data centers, you can rest assured that your servers are getting the best in both physical and network protection. All our facilities feature biometric access control and man-trap security along with year-round, 24/7 video surveillance, monitoring, and support. Our data centers are also PCI-DSS and HIPAA compliant and feature secure, dedicated locking cabinets available in 20U half cabinets and 42U full cabinets.
Our climate-controlled facilities reduce your risk of outages, even in the event of widespread power loss or other emergencies. The colocation data centers feature a minimum of N+1 cooling redundancy with hot aisle/cold aisle configuration for optimal cooling efficiency.
LightWave Networks provides the building, cooling, power, unmetered bandwidth, and security, so you can focus on revenue-generating activities for your business instead of IT concerns. Our facilities are carrier neutral, allowing you a choice for your connectivity needs. An IPv4 and IPv6 enabled, fully redundant, BGP network operated and maintained by LightWave Networks is available for fast, easy network connectivity, which is included in all colocation options.
Our colocation services can cater to businesses of all sizes from start-ups and personal projects to Fortune 500 enterprises. No need to predict the future of your IT needs – if they change, we can change your plan to accommodate you. Choose your colocation space and power delivery options: 120V, 208V, or 208V 3 phase power; redundant, A+B power available for true 2N power redundancy backed by a 100% uptime SLA.
Affordable Colocation Pricing
Using our colocation data centers for your IT storage needs saves your business the costs of building and maintaining your own on-site server facility. With LightWave Networks, there is no minimum server package required. We offer colocation space as little as 1U to multiple cabinets, and we have redundant/diverse fiber entry points into all our colocation spaces and server rooms. All our facilities are audited annually using the SSAE16 Type II SOC2 standard.
Learn More About Our Colocation Data Centers & Services
Boston Colocation | Boston Data Center | Dallas Colocation | Dallas Data Center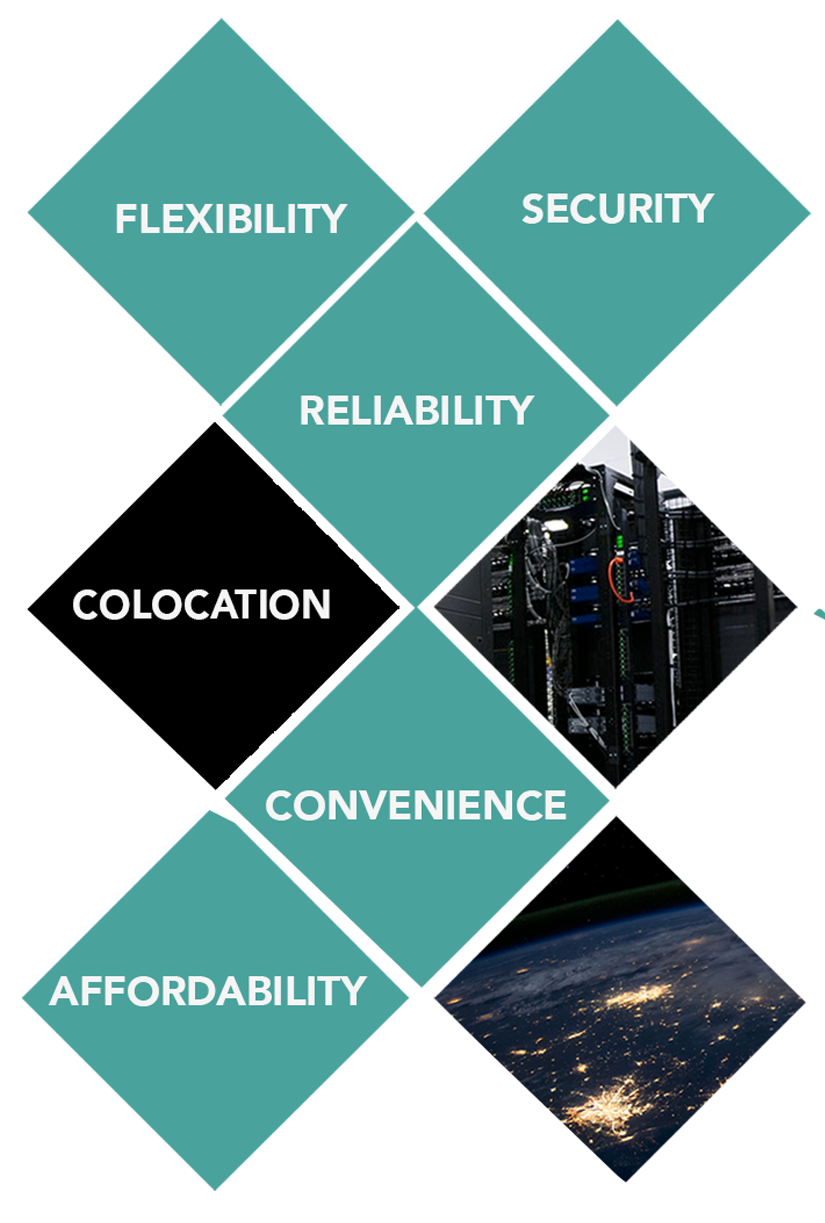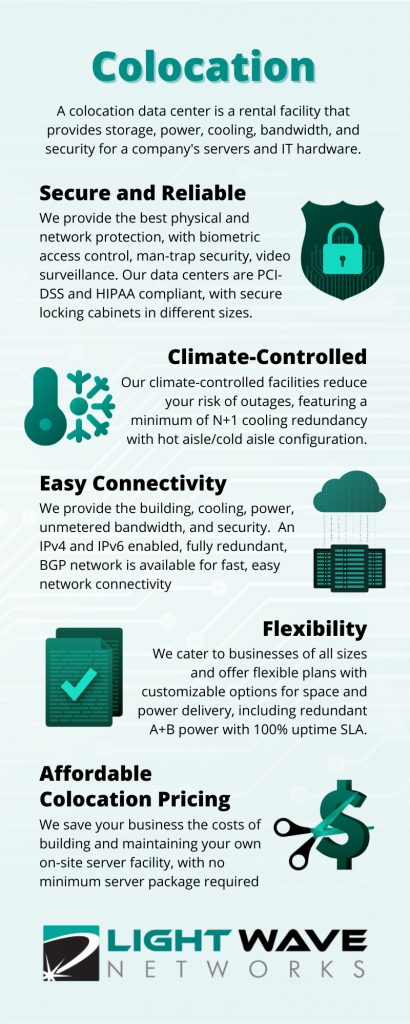 With data centers in Boston, Massachusetts and Dallas, Texas, our colocation services are a smart investment for any growing business that needs to stay connected.
Contact us or call 844.722.COLO today for your personalized colocation solution – plans start at $50 per month!