What Are the Benefits of Managed Hosting vs. Colocation?
When it comes to your business and its online activity, you may need to consider remote servers and backup options. Although you may be aware of all the options available to your business like managed hosting, colocation, and cloud hosting, you may not fully understand what their benefits are and how they could positively impact your business. The team at LightWave Networks is here to help you fully understand what each option offers you and how you could better decide between managed hosting vs. colocation or cloud servers. Continue reading below to learn more.
What is Managed Hosting and What is Colocation?
The principal differences between these two options are the amount of control that your business will have over the server. Colocation hosting providers allow your business to have total control over the server. In other words, if your company decides to use colocation, it will own the server that stores all of its information. Taking advantage of dedicated servers through managed hosting is a way of leasing a server. So, if you decide to go this route, you will lease a server and have less control over it. 
Managed hosting is better suited for businesses that have limited expertise in IT as well as those that have limited capital. Conversely, colocation is better for businesses that have more experience in technology and have more money to spend on IT. Colocation services and managed hosting are ways for businesses to outsource their IT department to a different service, saving them time and money. So when it comes to managed hosting vs. colocation, businesses should decide what their budget and needs are.
What is a Cloud-Based Server? 
If you are looking to outsource your IT and dedicated servers, you may have heard of the term 'cloud-based server.' A cloud-based server is a centralized server that allows businesses and other organizations to remotely access a server that holds all of their files and information. The benefits of a cloud server are that a business could not worry about the upkeep and infrastructure of their information and focus on their operations. As opposed to colocation and managed hosting, cloud servers do not offer businesses a physical machine to store their applications and data. 
More About LightWave Networks
LightWave Networks is a colocation and IT infrastructure location that allows businesses to take advantage of dedicated servers and other kinds of infrastructure that let them focus on their regular operations instead of their IT services. We offer Dallas Colocation, Boston colocation, Dallas dedicated servers, blended BGP IP transit, small business servers, and much more. Contact us today to learn more.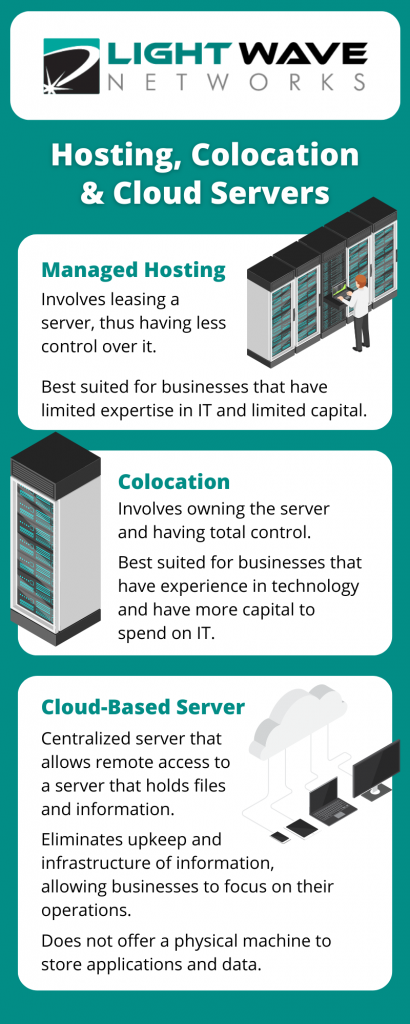 ---