Customizable Server Colocation in Boston, MA
From our Boston locations, LightWave Networks delivers premier colocation hosting for businesses with offices in Boston and surrounding areas in Massachusetts. We provide secure and reliable server hosting solutions for all types of enterprises. Our custom Boston colocation packages are flexible enough to best serve your business network regardless of the size of your company.
More and more companies are seeing the benefit of choosing colocation over an in-house IT network. If you are a business owner or manager looking for a secure facility to store your existing company servers, IT hardware, and networking equipment – look no further than LightWave Networks. We deliver superior server colocation in Boston at two facilities that both offer fast speeds and 24/7 security.
Our team of certified IT professionals will house your company servers in the Digital Realty Boston data center located in Needham, MA and the CoreSite data center in Somerville, MA. At these topnotch facilities, we not only provide optimized infrastructure and colocation space for company servers, we also offer dedicated servers, cloud servers, VPS hosting, and other services – all designed to keep your business connected.
Why Choose LightWave Networks for Colocation Hosting in Boston?
Security and Reliability
Rent colocation space at our secure data center in Boston and your company servers will be safeguarded by the strongest physical and network protections. Our Boston colocation facilities were designed with the following features.
Controlled Site Access
Biometric Scanners
Card Key Access
Man-Trap Security
CCTV Surveillance
24/7/365 Security, Monitoring, & Support
On-site Security Personnel
Dedicated Locking 20U Half Cabinets & 42U Full Cabinets
Complete Climate Control
Our climate-controlled data centers are designed to deliver optimal cooling efficiency. Energy efficiency and reliable climate-control provides a reduced risk of outages, even if widespread power loss or other emergencies should occur.
Minimum of N+1 Cooling Redundancy
N+1 Redundancy AHU
Hot Aisle & Cold Aisle Configuration
LEED Gold Sustainability Certification
ENERGY STAR Certification
Fast and Easy Connectivity
Our colocation center will provide the infrastructure, cooling, power, security, and unmetered bandwidth to fully support your company's servers and network. Our carrier neutral facilities were designed with the following features:
IPv4 & IPv6 Connectivity
Fully Redundant & Maintained BGP Network
Diverse Cloud Access Options
Unparalleled Flexibility
At LightWave Networks, we pride ourselves with providing networking solutions to all sizes of business, from start-ups to Fortune 500 corporations. Our custom colocation packages are developed around your business' needs. Should your IT needs grow or change, trust your adjusted plan and our facility to accommodate them. Our colocation spaces feature the following:
120V, 208V, & 208V 3 Phase Power
A+B Power
2N Power Redundancy
N, N+1, 2N Backup Power Redundancy
100% Uptime SLA
Affordable Boston Colocation Pricing
Use our data center for your IT storage needs and you will save on the cost of building and maintaining your own on-site server room. When it comes to Boston colocation pricing, our customizable service packages allow us to offer some of the most affordable monthly rates in the industry. At LightWave Networks, there is no minimum server package required and plans start at $75 a month. While our prices are reasonable, our service remains top-quality. Other benefits of using our Boston colocation services include:
Colocation Space From 1U to Multiple Cabinets
Redundant and Diverse Fiber Entry Points
Diverse POEs, MDFs and IDFs Connectivity
SOC 2, SOC 3 and PCI-DSS Compliance
Certifications for HIPAA, ISO 27001, NIST 800-53
Boston Server Colocation
One of the most important aspects of modern businesses that wish to leverage the services of a hyper-converged data center is having a secure server colocation service. Servers provide many benefits to users in the form of convenience and data storage. Our convenient location in the Boston and Massachusett area means that our customers could enjoy all the benefits of remote servers and storage closer to home. Outsourcing server colocation allows businesses to enjoy all of the benefits of the service without having to spend time dealing with infrastructure, maintenance, and repairs. Outsourcing allows you to concentrate on what is best for your business 
Top-Tier Boston Colocation Data Centers
Our data centers in Massachusetts and Boston are here to make sure that businesses understand that we offer all of the benefits of colocation along with other services that complement colocation nicely. For one, we make an effort to keep our data center at optimal conditions so that you do not run the risk of the hardware getting damaged during its use. Also, having optimal conditions for hardware through climate control and constant surveillance generally translates to a higher chance of your computers and hardware being protected from cyber-attacks and that they are as safe as possible during their use. In fact, one of the advantages that partnering with LightWave Networks offers is that we provide the perfect infrastructure and attention to detail for expedited and effective colocation and data center services. With proper infrastructure, you could begin to have the most effective colocation and data center services. 
Colocation in Massachusetts
LightWave Networks is proud to say that we offer our services in a large part of the United States. There are few states like Massachusetts that have a flourishing business environment in the United States, which means that they need outsourced backup & recovery services close to home. If your business is located in Massachusetts, you should consider partnering with a business that is close to home because if an outsourced data center is operating within the same business environment as its clients, it will understand the intricacies that the business is dealing with. Having an "ear to the street" in this regard allows us to make the most educated business decision that allows us to make sure that everything is running smoothly. 
What is Server Colocation?
Server colocation, often referred to simply as "colocation," is a strategic solution for businesses seeking a reliable and cost-effective way to house their servers and IT infrastructure. In the world of data management, it represents a smart alternative to in-house server rooms and data centers.
Colocation centers are specialized facilities designed to provide a secure and controlled environment for servers and networking equipment. Companies, regardless of their size, can rent space within these facilities to store their servers, while retaining full control over their hardware and software configurations.
What are the Different Types of Colocation?
Colocation services come in various types, each tailored to different business needs and preferences. Understanding the distinctions between these options is crucial in selecting the right fit for your organization's IT requirements. Our hyper-converged data center explores the different kinds of Boston colocation below:
Retail Colocation
Retail colocation is the most common type. In this setup, businesses rent space, power, cooling, and connectivity from a colocation provider. They manage their own servers and equipment, maintaining full control over hardware and software configurations. Retail colocation offers a high degree of customization and is ideal for companies with unique IT infrastructure needs.
Wholesale Colocation
Wholesale colocation is used extensively throughout Boston data centers and is designed for larger businesses or data-intensive organizations. Instead of leasing individual cabinets or racks, clients rent dedicated data center suites or a significant portion of a facility. Wholesale colocation offers economies of scale, catering to organizations with substantial server and storage demands.
Managed Colocation
Managed colocation bridges the gap between traditional colocation and fully outsourced data center services. In this model, the colocation provider offers varying levels of management and support services. They may assist with server maintenance, monitoring, security, and other operational aspects. Managed colocation is an excellent choice for companies looking to offload some IT responsibilities while still retaining control over their infrastructure.
Cloud Colocation
Cloud colocation combines the benefits of colocation with cloud services. Companies collocate their servers within a data center while using cloud resources for specific workloads or services. This hybrid approach allows for greater flexibility and scalability, enabling businesses to leverage the advantages of both colocation and cloud computing.
Why do Companies Use Colocation?
Companies opt for colocation services and outsourced hosting support for a range of compelling reasons that stem from both practical and strategic considerations. One of the main reasons why a company would choose to use colocation is related to cost efficiency. Building and maintaining an in-house data center can be prohibitively expensive. Colocation shifts the infrastructure costs to a specialized provider, sparing businesses from capital expenses associated with data center construction and ongoing maintenance. It's a cost-effective alternative that allows companies to budget more predictably.
Another reason why should consider Boston colocation data centers or data centers in Massachusetts is because of the security that they offer. Colocation centers prioritize both physical and digital security. Access control, surveillance, and monitoring are standard features. These facilities often comply with industry-specific regulatory requirements, such as HIPAA for healthcare or PCI DSS for payment processing, helping companies meet their compliance obligations.
More About LightWave Networks
We provide a collection of different services for our clients. One of the most important advantages that our business provides is the fact that we provide a well-rounded suite of services. Our full collection of services includes the following: 
We have curated this collection of services to ensure that our customers have all of their bases covered when it comes to choosing what is best for your business. We are also continuously monitoring the industry for updates to help your business. Contact us today to learn more about our New Jersey data centers and Boston outsourced IT support.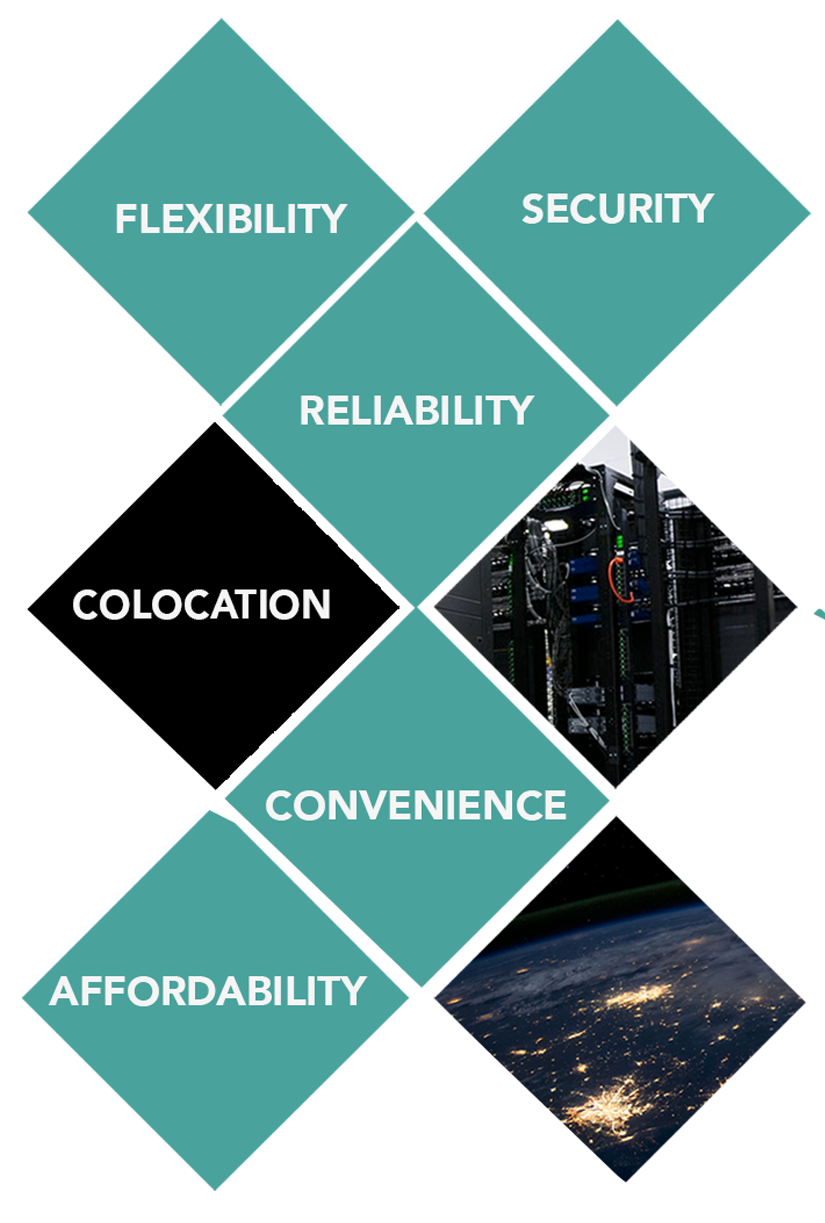 With data centers in Boston, our colocation services are a smart investment for businesses that need to stay connected and competitive in today's digital landscape.
Contact us or call 844.722.COLO today for your personalized colocation solution – plans start at $75 per month! (excluding Raspberry Pi colocation)